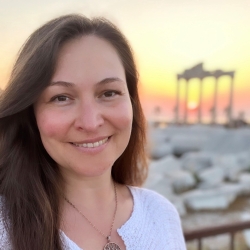 Elif Balın
Associate Professor
Career Counseling Coordinator
Phone: (415) 338-6415
Email: ebalin@sfsu.edu
Location: Burk Hall 529
Elif Balın is an Associate Professor of Counseling and the Coordinator for the Career Counseling specialization. Dr. Balın received a B.A. from Boğaziçi University and an M.S. from Middle East Technical University in the field of Psychological Counseling and Guidance (a program that primarily focuses on developing a professional identity and interconnected qualifications in school counseling and mental health counseling areas) in Turkey. She worked as a school counselor and educator in K-12 public, military, and private (international) schools before transitioning to Career Counseling and higher education career services.
Dr. Balın earned her doctoral degree in Counselor Education and Supervision (with a graduate minor in Women's Studies) at the Pennsylvania State University. She worked as a full-time career counselor and instructor at Penn State and as an assistant professor at Rowan University before joining the Department of Counseling at SF State.
As a counselor educator, Dr. Balın's goal is to train professional counselors who understand and apply Career Counseling through systemic and culturally responsive practices in various service and advocacy roles in educational, community mental health, nonprofit, and business or corporate settings. Her priority as an educator and supervisor is to create safe and brave learning spaces that are grounded in self-care and community care, so counseling trainees can practice authenticity and respect for diversity and social justice.
As a professional counselor and community service volunteer, Dr. Balın actively engages in professional development and designs culturally responsive career counseling interventions that can prevent and minimize the harmful impacts of work (or the lack of decent work) on mental health, relationships, and families/communities. She integrates technology and creativity into her work such as the Digital Wellness & Flourishing and Expressive Movement frameworks and tools.
Dr. Balın's scholarship projects fall into three major areas: (1) career development of international students and recent immigrants, (2) multicultural and international competencies of college/university career services centers and career development professionals, and 3) experiential learning and curricular innovation in career counseling. She conducts creative and participatory research and writing projects, as reflected in her multiple publications with her students and practitioners in the field. She values research and writing as a collectivist and communitarian action that should promote change and inspiration in individuals and communities. Thus, she's dedicated to building bridges between her teaching, research, and service roles. Dr. Balın has active leadership and mentorship roles at the National Career Development Association (NCDA), California Career Development Association (CCDA), and the Association for Counselor Education and Supervision (ACES) – all divisions of the American Counseling Association.
Dr. Balın's scholarly work can be found here.