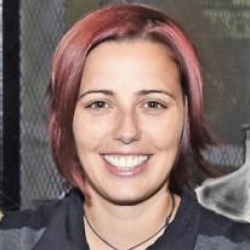 Tiffany O'Shaughnessy
Associate Professor
MFT Counseling Coordinator
Phone: (415) 338-2394
Email: taosh@sfsu.edu
Location: Burk Hall 532
Tiffany O'Shaughnessy, Ph.D. is an Associate Professor of Counseling and the Coordinator for the MFCC specialization. She earned her doctoral degree in Counseling Psychology and master's degree in Counseling and Human Services from Lehigh University in Bethlehem, PA. She completed her pre- and post-doctoral training at University of California, Berkeley's Counseling and Psychological Services. Prior to joining the faculty at San Francisco State University, she trained master's level therapists and counselors at Sonoma State University, California School of Professional Psychology, and Argosy University.
Dr. O'Shaughnessy's research focuses on LGBTQ+ affirmative therapy and fostering multicultural and social justice counseling competency through supervision and training. Her recent work has focused on measuring LGBTQ+ affirmative therapy in practice. She has also produced theoretical work related to continuums of sexual identity, gender identity, and competency in working with the transgender community. She has co-authored several empirical and theoretical papers exploring the process of enhancing multicultural competence and social justice identity in clinical trainees through supervision (see more detail at Google Scholar).
As a counselor educator, Dr. O'Shaughnessy believes it is important to stay actively involved in clinical practice in order to inform her teaching. She is licensed as a psychologist, maintains a small therapy practice in Berkeley, CA, and serves as a volunteer supervisor and trainer for The Pacific Center for Human Growth, a queer community mental health center that provides sliding-scale therapy to foster the well-being of the LGBTQ+ community.
Dr. O'Shaughnessy encourages her students to nurture a broader view of learning and consider issues of equity, social justice, and advocacy in all areas of counseling. She encourages students to explore how the themes and theories discussed in class extend out of the classroom and into their life and community. Her goal is to collaborate with her students to develop outstanding clinicians and global citizens who understand the importance and impact of culture as well as help students maintain a quest for knowledge throughout their lifespan. She believes in transformational educational experiences, for both student and professor, and is influenced by the works of Paolo Freire and bell hooks in her understanding of classroom potential.
Dr. O'Shaughnessy is the co-chair of the Northern California MFT Educator's Consortium, the Collective Coordinator for the Association for Women in Psychology, and active in the Society of Counseling Psychology, Bay Area Open Minds, and the American Counseling Association.